At Clee Hill Community Academy we aim to provide an exciting and engaging curriculum which will inspire children to nurture a passion for learning. We have designed a curriculum for the children of Clee Hill Community Academy that will help them develop a love of learning and activate their enquiring minds. Our curriculum is planned with the needs of our pupils at its core.
We firmly believe that the driving force behind the delivery of an inspiring curriculum is high quality teaching and learning which includes a wide range of learning experiences, through real life and meaningful tasks. As a village school in rural Shropshire, our curriculum takes advantage of the local environment whilst appreciating the limitations of rural deprivation. It aims to provide opportunities to enrich the experiences alongside ensuring that they become caring and considerate citizens too.
When designing the computer curriculum, we took into consideration 5 key factors:
Voice of the child
Environment
Community
Cross Curricular Learning
Personal, social, emotional opportunities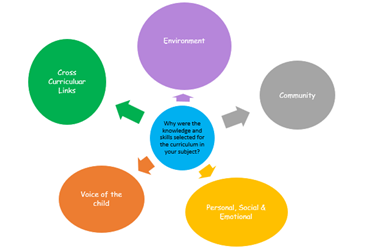 These 5 areas are at the core of all our curriculum plans.
We are proud to be a welcoming, successful and inclusive school. We recognise everyone as a unique individual with their own ambitions, skills and dreams. As a growth mindset school, children are encouraged to embrace challenge, persist in the face of setback, and see effort as the path to mastery.
The school curriculum has been designed to ensure a broad range of coverage which builds on the knowledge, understanding and skills of all children, whatever their starting points, as they progress through each Key Stage. The curriculum incorporates the statutory requirements of the National Curriculum (2014) and other experiences and opportunities which best meet the learning and developmental needs of the pupils in our school. The aim of our curriculum is for pupils to have the requisite skills to be successful, independent and motivated learners in readiness for their next stage of education.
The school uses a cross-curricular approach to teaching and learning. This means that skills, knowledge and understanding across a range of subjects are brought together and form a topic.  Within the topic, children are able to practise and apply their reading, maths and English skills in other subject areas. Starting with a knowledge rich content, the curriculum is carefully organised in a coherent way, to ensure that learning is built upon. Our Trust provision maps provide continuity and progression throughout our school and beyond – from KS1 to KS4. This shows the coverage for each foundation subject across the school. Class 'Topic Planners' show each classes' areas of learning according to subject.  Due to mixed age classes, a two-year rolling programme is used. Cycle A (2020-2021), Cycle B (2021-2022).