School Day
The school gate opens at 8:35am. Registration is at 8:45 am - any children arriving between 8.45am and 9.00am will be marked as late. Arrival after 9.00am will be recorded as an unauthorised absence.
Attendance
Clee Hill Community Academy will encourage good attendance by:
providing a caring and welcoming learning environment;
monitoring pupils, informing parents/carers in writing of irregular attendance;
working closely with the Education Welfare Officer (EWO)
In return we expect that parents/carers will:
encourage regular school attendance and be aware of your legal responsibilities;
always ensure that your child arrives at school punctually and fully prepared for the school day;
ensure that you contact the school whenever your child is unwell and unable to attend school, and will;
contact the school

 

by 9.00am

 

on the child's first day of absence and keep the school informed at regular intervals if it is a long-term illness.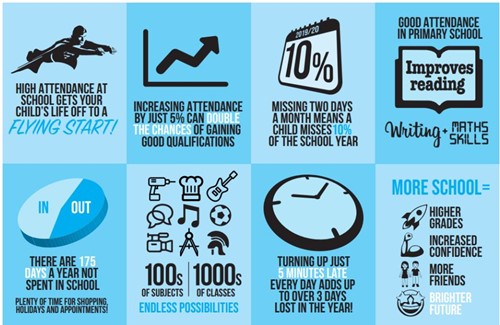 If your child is late for registration then they must be signed in at reception. This is in compliance with our Health and Safety Policy. Likewise, if you need to collect your child at any time during the school day please report to reception.
The school is able to authorise absence for the following reasons:
Illness
Medical treatment
Dental treatment
Religious observance
Severe weather
We would encourage you to make regular appointments for early or late in the day to minimise the amount of education missed by your child. We are unable to authorise a full day's absence for routine appointments.
Grant for leave in exceptional circumstances
Each request for absence will be considered individually, taking into account the following:
The child's previous attendance history
The age of the child(ren)
The child's stage of education
The time of year (SATs)
The nature of the absence (an exceptional experience)
Whether the parents are restricted in terms of leave from their employer
The school works closely with our Education Welfare Officer who visits the school half-termly. Pupils' attendance is monitored and in accordance with DfE requirements. Where there are concerns, i.e. persistent lateness or absence, parents will be contacted and/or visited.
Severe Weather
The position of Clee Hill School means that we do occasionally experience bad weather, which prevents the school from running or makes it impossible for the staff to get to school.
The school will send a text message at the earliest opportunity to the first named contact if the school is not opening. Radio Shropshire (96FM) will broadcast school closures at regular intervals from 7.00am; alternatively the Shropshire Council website will announce school closures. The decision to close the school will be made by the Head Teacher in consultation with the Chair of Governors as early as possible.
If bad weather dictates that the school closes early, children will be kept safe at school until they can be collected either by their parents or a responsible adult.