Welcome to Class 3!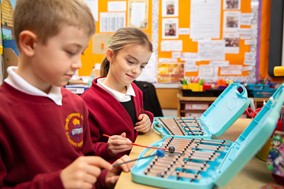 Things you could do to continue learning at home:
Classroom Secrets Home Learning Pack
Year 2 Unit Discover what's inside the magical box
Year 3 Unit Join Professor Folklore in finding the truth about trolls

CLASS 3
As the children enter class 3, we continue to encourage them to develop their independence and resilience. The children will meet many new aspects of the curriculum for the first time, which may seem daunting at first. But with a 'have a go' attitude, they will soon develop the confidence and skills required. Please pop in and see us if you would like to know more about an area your child has been studying.
Reading
This continues to be crucial, even for children who are now confident at reading aloud. In Year 3, we focus particularly on understanding the texts that we read and identifying the meaning of new vocabulary. We would be grateful if you would hear your child read at least 5 times a week and sign their reading diary. We appreciate your support in hearing your child read - it really does make a difference!
The children are responsible for changing their own reading book, which can be done at the start of the day. They are also responsible for taking their reading book home every day, although we will remind them!
Homework
Homework is sent out twice weekly. Mrs Richardson's homework is sent out on a Monday and due in for a Monday. This is usually maths but occasionally, it will be a project relating to our topic. Mrs Little's times tables homework is given out on a Friday and is due in on a Friday.
Topics
Autumn:   Location, Location, Location             
Spring: Tomb Raiders
Summer:    Lion King
Science topics
Autumn: Rocks and soils
Spring: Forces and magnets
Summer: Animals including humans – skeletons, Plants
Visits
Year 3 will visit Clee Hill Quarry in the Autumn term. We will also have a visit from Cuan Wildlife Rescue centre. They will also visit a Hindu temple.
In the Spring term, the children will visit Birmingham museum and Art gallery.
In the Summer Term, the children will visit the Safari Park to look at African animals.
Useful information:
We encourage children to come in to class 3 independently, saying goodbye to adults at the gate or veranda.
PE: PE is on a Tuesday afternoon.
Forest schools: Forest schools in help in the Autumn and Summer term on a Wednesday afternoon.
Useful things for class 3 to know:
How to tie their shoe laces.
How to tell the time on an analogue clock.
The x2, x5, x10 tables leading to the x3, x4, and x8
Number bonds to 20
Useful websites: