Welcome to Class 2!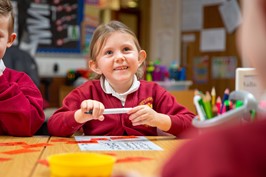 In class 2 the children will build on experiences and skills from class 1. The day is more structured, and the children are expected to start to develop their independence. There is more emphasis on recording work and becoming independent writers. By the Spring term the children are expected to be organised and come into class 2 on their own. Of course, parents and carers are always welcome to come and see us with any questions or even for just a chat.
Reading
In year 1 and 2 the children continue to follow the letters and sounds program where they learn new phonemes and word patterns to help them learn to read. The children will take home a reading book matched to their ability and one to share. We would be grateful if you would hear your child read every day and sign their reading diary. We appreciate your support in hearing your child read - it really does make a difference!
The children are heard read every day when possible. They are also responsible for taking their reading book home every day, although we will remind them!
Homework
Homework is sent out every Friday and is usually maths. This needs to be completed over the weekend and returned to school on Monday. Holiday homework is also given.
Topics
Knowledge Organiser - Food Glorious Food - History and Geography  - Autumn term
Autumn:  An Island Home 
Spring:  Magic Kingdom
Summer:  The Great Fire of London  
Science topics
Autumn: Animals including humans/Electricity/Seasonal changes
Spring: Materials/Seasonal changes
Summer: Forces – pushes and pulls/Plants – names and structure/Seasonal changes
Visits
Autumn Term – Visit to Queenswood park to look at seasonal change/RAF Cosford
Spring Term – Jackfield Tile Museum – Materials – making our own tiles
Summer Term – Secret Hills Discovery Centre to look at plants/Visit from the Fire Brigade
Useful information:
Drinks Bottles:  These are allowed in the classroom if they have water in them. They can be refilled using our water fountain.
PE:  Thursday afternoon.
Forest schools:  Tuesday afternoon all year round.
Lunchtime Reading Club:  Wednesday lunchtime 12.30
Useful things for class 2 to know:
Their Birthday.
How to tell the time on an analogue clock for o'clock and half past.
The 2x and 10x tables leading into 5x and 3x
Number bonds to 10
Useful websites:

   – for maths

– for reading

– for science