Welcome to Class 5!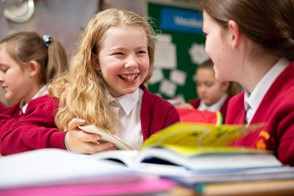 Welcome to class 5!
When children enter Class 5, we continue to develop their independence in preparation for secondary school. Children are expected to remember their homework and to have all their belongings required for the school day. As some new aspects of the curriculum can seem a little daunting at first, we encourage children to have a growth mindset and always have a go. Children know that mistakes are good as we learn from them. Please speak to Mrs Richardson if you have any questions about anything to do with the curriculum or the school day.
Homework
Homework is set on a Monday and due in the following Monday. In Class 5, children are given CGP workbooks to work from. Children are expected to complete weekly homework in Maths, Reading and SPaG (Spelling, Punctuation and Grammar). Children in class 5 are also expected to know all their times tables up to 12 x 12 and recall them at speed. Games on the computer can help with this.
Reading
Alongside their weekly homework, class 5 are expected to read with an adult at least 5 times a week and have their reading record completed. Even for fluent readers in year 5 and 6, it is vital to maintain regular reading. Discussions with your child on the books they are reading is important to help their level of comprehension in what they have read. In class 5, we continue to work on being fluent readers, reading with expression and to understand the meaning of new vocabulary.
We have recently bought a new range of exciting books within our class book corner and in the school library which we encourage children to get engaged in.
Topics
Autumn:   Vikings             
Spring: Carnival
Summer:    Italian Inspiration
Science topics
Autumn: Animals including humans (linked with football sessions with Kidderminster Harriers)
Spring: Earth and Space
Light
Summer: Living things and their Habitats
Micro-organisms
Visits
Autumn Term

York

York Minster

Spring Term

Chester Zoo

Summer Term

Year 6 post-SATs treat

St Peter's Church

Ludlow restaurant to make pasta
Useful information:
PE: PE is on Monday afternoon. However, children always need to have their PE kit in as this can sometimes change.
SATs: Towards the end of year 6, children take their SATs. We spend a lot of time preparing the children for these and make sure they are fully prepared for them. We try to minimise the pressure as much as possible on the children. However, we also encourage all children to try the best, as we do in all aspects of school life.
Children will complete a reading comprehension assessment, maths assessments (including arithmetic) and SPaG. Their writing is assessed throughout the year from different pieces of writing. There are plenty of websites with help towards these and revision material can be purchased during the year to help. Further information on the SATs will be given to parents at the SATs meeting each year.
Forest schools: Forest schools will take place for class 5 in the summer term.
Rewards
As children in class 5 are at the top of the school, we encourage them to be helpful around school, helping the younger children. Children are always expected to always demonstrate positive behaviour and try their best. Children can earn dojo points which they can add together and exchange for a reward.
Pencil cases
It would be useful if children in class 5 could bring their own pencil case into school to store their equipment. It would be even better if children had their own set of felt tips and pencil crayons to limit the sharing of equipment in class.
Useful websites:

Things you could do to continue learning at home:
Classroom Secrets Home Learning Pack
Year 6 have all their CGP books for your own revision for SATs you can carry on with. I will be setting homework from the CGP books as usual, but I am going to ask you to continue marking these at home.
Talk for writing units 
Year 5 Unit Playing the mysterious game resulted in a big problem. Discover what it was and write and publish your own finding tale.
Year 6 Unit Doors open a world of possibility and a whole range of writing opportunities. Explore these possibilities and write your own engaging portal story. 
Years 6, 7 & 8 Unit Working at greater depth: Doors open a world of possibility and a whole range of writing opportunities. Hone up your creative writing skills and write your own portal story. 
English:
Try writing a diary every day- check your sentences are accurately punctuated. Remember to check spellings in a dictionary.
https://kids.wordsmyth.net/we/?level=2&rid=32736
Have a look at the exciting images on Pobble 365. Each day there is a new image- scroll down the page for writing suggestions to get you started.
http://www.pobble365.com/a-new-world-2 
Could you write a letter to somebody? Possibly some of the residents of Doddington Lodge or someone in the Three Crosses.
Maths:
Improve your times tables by playing some of these games together:
https://www.theschoolrun.com/top-times-tables-games
Practise your calculation skills – look on the school's calculation guidance for handy videos to help you:
http://chcacademy.co.uk/media/8037/clee-hill-community-academy-progression-in-calculation-policy.pdf
SPAG:
Look at some of the words and activities on Spelling Frame https://spellingframe.co.uk/
Sing along to some of the MC Grammar songs and Grammarsaurus songs https://www.theteachertrain.com/mc-grammar
Topic:
We have been studying the Victorians. Can you look at some images of LS Lowry and create your own stick drawing picture of a town in his style.
Could you research an area of Victorian life and find out what life was like in the workhouses for children? Think about Street Child and what his life is like.
Next term our topic is 'Road Trip USA'. Plan an imaginary trip to USA and long Route 66. Where will you stay? How will you travel? What will you eat? We will be imagining we are stopping off at different places along the route. Where are you looking forward to finding out about?
Science:
We have been learning about forces this term. There are lots of websites and activities you can have a go at.
https://www.bbc.co.uk/bitesize/subjects/z2pfb9q
Purple Mash:
All children have logins so can access Purple mash at home.
Have a look at Serial mash. Some nice texts to read and questions to answer afterwards. You could do this alongside any reading books you have at home.
There are plenty of other activities relating to all of the different topics for you to have a go at.
https://www.freehomeschooldeals.com/free-printable-30-day-lego-challenge-instant-download/